Moose Hunting Packages
Randy Petrin (Registered Maine Guide)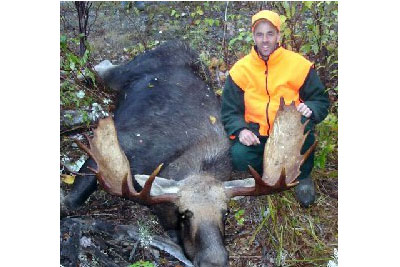 This area in the Western mountains has more record moose than you can imagine. Let our guides work for you. They have been scouting all year so you can get the trophy of a lifetime! With a 100% success rate, you can relax knowing that we will show your hunting party, MOOSE. With gas prices so high, why search when we can show you where they are. We have large vehicles all set up to haul your moose out. We have some of the most beautiful scenery at that time of year and families are more than welcome to come.
Moose Permit by lottery only Click here to apply.
We guide in Wildlife Management District (WMD) 4 and 8
Season in WMD 4 is in late September
Season in WMD 8 is in early October
Non-resident licenses are available locally or may be obtained from the State of Maine: Click here to apply. (Prices listed do not include the agent fee)
Over 40 years Guiding Experience!
TRY ONE OF THESE GREAT PACKAGES
6 Day hunts (Includes you & your sub-permittee)
SUCCESS RATE: 100%
OVER 40 YEARS GUIDING EXPERIENCE
REFERENCES AVAILABLE
Moose Hunts: $2,000.00
Includes you & your sub-permittee (2 Person Hunt) - only guide in WMD 8
Fully Guided Hunts (6 Day)
Includes guide, lodging, transportation to and from hunting area and some care of the animal. Lodging not included in day hunts. Please call (207) 668-4872 or email us for more information.
Meals can be provided for an additional $200.00 a week.
Over 40 years Guiding Experience!
If you have questions or you would like to make reservations, please call
(207) 668-4872
Additional numbers: Home (207) 668-9031 or Cell (207) 431-3445